Even as phone and computer applications grow more and more ubiquitous in our daily lives, there are many places where the old way of doing things still manages to keep hold. One of these places is in the world of employee mileage reimbursements.
In this short read, we're going to discuss what employee mileage reimbursement entails, what are some current methods that companies use, and how modern offerings can help save those companies time, money, and effort.
What Is Employee Mileage Reimbursement?
Mileage reimbursement refers to employers reimbursing their mobile employees for expenses that they accrue when conducting business using their personal vehicle. This can include fuel costs, but can also be seen as a general cover for wear and tear on the car, as well as long-term needs such as new tires, oil changes, etc.
While there is no federal requirement to provide mileage reimbursement, there are some instances where companies are required to reimburse; namely, certain states require mileage reimbursements, and if the employee will accrue expenses when conducting business that will cause their net pay to fall below minimum wage. The IRS provides a standard mileage rate ($0.56 per mile in 2021) that "is based on an annual study of the fixed and variable costs of operating an automobile" (IRS).
If your company has mobile employees, chances are that you are reimbursing them for their mileage. If they're using pen-and-paper methods to track their mileage, your company could be missing out on thousands of dollars per year per driver, as well as countless hours in manual payroll processing.
Employee Mileage Reimbursement: The Data
Without a modern mileage tracking app, employees generally use paper mileage logs and Excel spreadsheets. This requires the driver to pull out their mileage logbook, grabbing a pen, and manually entering in the necessary information.
Compared to a modern automatic mileage tracker like TripLog, which automatically starts tracking mileage as soon as the employee begins driving and ends when they're done, a driver will spend around 2 minutes per mileage entry. If drivers make multiple trips throughout the day, these minutes add up, with a typical driver spending an average of 58 hours a year filling out manual mileage logs.
In addition, TripLog found that, within a three year period, 28% of all manual mileage claims are overreported, costing companies an average of over $1,800 per driver. TripLog's app cross-references manual reports with Google Maps, ensuring accurate mileage reporting.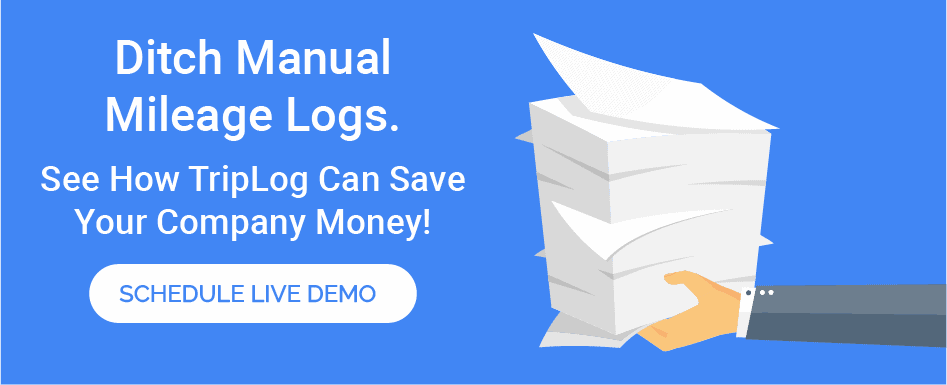 Employee Mileage Reimbursement: Make The Switch
TripLog streamlines every step of mileage reimbursement, from reporting to approval. In addition, automatic mileage tracking and reporting cuts down on inaccuracies and inefficiencies.
Drivers can rest easy knowing that they'll never miss a reimbursable mile, and business owners can be assured that their reimbursements are accurate. Administrators are able to get all of their mileage reports in one convenient web dashboard, ending the need to hunt down stacks of mileage logs or Excel spreadsheets.
In addition, TripLog's web dashboard gives business owners and administrators access to insightful data, such as month-by-month mileage, fuel use, busiest hours, and more.
Employee Mileage Reimbursement: Conclusion
It's a no-brainer – TripLog saves companies thousands of dollars per driver, saves drivers dozens of hours per year in manual reporting, and can save companies over 10 hours of payroll processing time per pay period. Simply put, switching to a modern mileage tracking and reimbursement solution will save your company money and headaches, as well as improve driver satisfaction.
Trusted by Fortune 100 companies and over 500,000 users, TripLog is the most feature-rich mileage and expense tracking solution available. Download the app on iOS or Android, create an account through our web dashboard, or schedule a free live web demo today!