As of January 1, 2023, the 21st Century Cures Act requires all states in the US to require healthcare providers to implement EVV for Medicaid-funded personal care services and home healthcare services.
States had until January 1, 2020 to implement EVV for PCS services, with the 2023 deadline now requiring HHCS providers to implement it. The EVV requirements are in place to improve quality of care, reduce abuse and fraud, and help providers save money.
Related: The Healthcare Apps You Need To Know About
Electronic Visit Verification (EVV) Explained
Simply put, EVV is a method of electronically verifying the time and place of a visit by a healthcare provider, as well as the identity of the provider. Most EVV systems also offer a way to store notes and have other useful features as well.
There are many benefits to using EVV systems in home healthcare. EVV can:
Improve the quality of care by ensuring patients receive the care they need when they need it.
Save money by reducing administrative costs and improving team efficiency.
Reduce abuse and fraud by making it more difficult for providers to bill for services that weren't provided.
Using EVV allows healthcare agencies and workers to provide better treatment. With advancements in modern technology, EVV provides a more accurate method of visit verification.
Previously, companies would use phone calls to verify their visits. These clunky and outdated methods can be largely abandoned now.
Related: Best Practices for Personal Mileage Tracking in Healthcare
How EVV Works in Home Care
As stated above, EVV is a method of confirming the time, place, and length of a given home health care visit. Most states have chosen EVV providers at the time of this writing, giving agencies an easily accessible system for their teams.
Providers are able to use mobile apps on their phones for EVV. Many of these EVV systems allow employees to clock in using an ID, and they can identify the patient and their data, allowing for better care from providers.
EVV For Home Care: The Benefits
There are even more benefits for both patients and providers to using EVV.
EVV Benefit #1: Increased Provider Efficiency
With modern EVV systems, care providers are able to access important patient documents with a few taps on their mobile phones. They can look up their patient's health history and add notes to their visit for future reference.
In addition, if a visit is missed or late, healthcare agencies are able to quickly make necessary changes, rather than waiting for a frustrated patient (who is also in need of care). If a provider calls out, the agency can quickly send a replacement, resulting in better care.
The time and scheduling capabilities of EVV systems are also of great benefit to both providers and patients.
EVV Benefit #2: Visibility Improvements
EVV allows patients and their providers' agencies to track their visits in real time. They'll know where the provider is, how long they're there, and what they're doing.
The benefits to providing better service to clients result in happier patients. EVV records also allow healthcare organizations to offer better and more efficient reimbursement to providers.
Beyond that, EVV systems can offer internal communication features, typically encrypted so as to remain entirely private. EVV systems are built to protect sensitive patient data.
Related: Home Health Care Mileage Reimbursement Explained
EVV Benefit #3: Data Collection
Modern EVV systems are built with useful data-storing capabilities. Providers are able to look up patient information as well as details on past visits.
Metadata gathered from these visits can also help healthcare organizations and researchers develop new solutions and better methods of providing care. Providers can also easily check which healthcare services are authorized for a given client.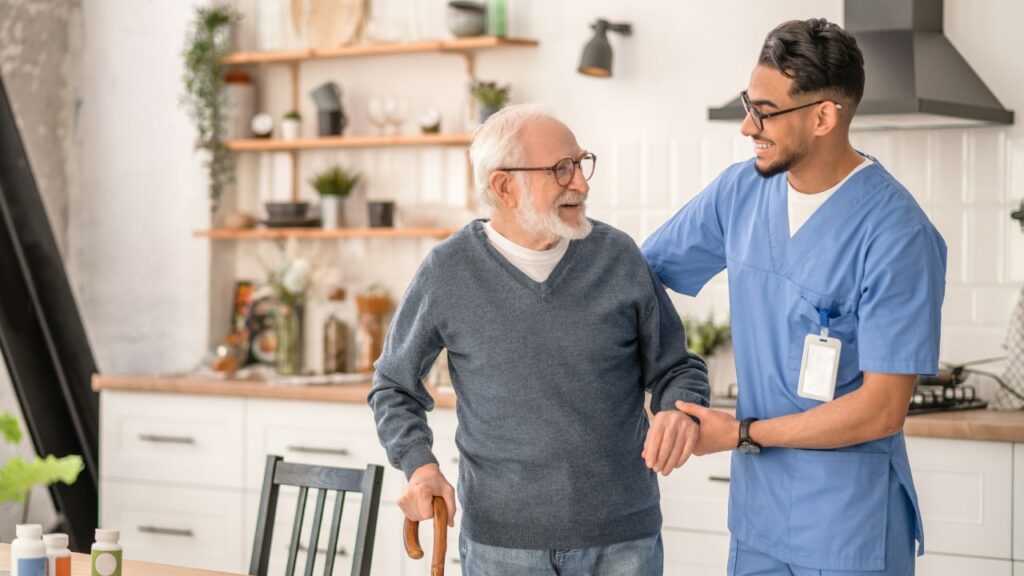 Other Benefits of EVV
Improved communication between providers, patients, and families
Increased transparency and accountability
Enhanced data collection and analysis
Reduced administrative burden
Improved compliance with regulations
Related: Reducing Work Burnout in the Home Healthcare Industry
EVV System for Home Care Requirements
The main requirements for EVV are as follows. Keep in mind that certain states may have more stringent requirements. Review your state's specific EVV requirements before making a decision that may impact your team.
Patient name
Provider name
What kind of service is being provided
Time, date, and location of care
EVV Methods
There are a few methods for EVV.
Mobile apps
Phone call
FOB trackers
Voice identification
EVV For Home Care: In Conclusion
The 21st Century Cures Act's intentions are to provide better and more accurate care. Better access to treatment requirements, patient records, and visit information can be a great way to provide that better care.
EVV systems make payroll simpler, missed visits more easily corrected, and provide agencies with better data analysis capabilities. If you haven't already, get your team started with an EVV provider.
Related: Medical Mileage Deduction Explained
Most states are working with an EVV provider to give healthcare agencies a free EVV option, though many states also let agencies choose their own providers. Consult your state's specific regulations to ensure compliance.
Talk to TripLog About EVV
We at TripLog would love to know more about your EVV needs and how we may be of service. Please don't hesitate to schedule an introductory call with us to learn more!