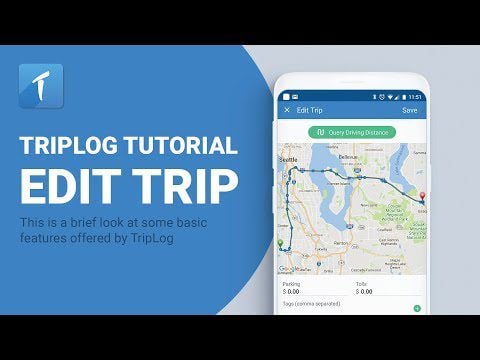 Professional
This is a brief look at some basic features offered by TripLog in regards to Editing or changing Trips.
Expand and collapse: You may have noticed that by clicking on the days you can expand or collapse trips, but you can also expand all or collapse all from the daily menu button.
Daily Map View: A cool feature meant to help solve the confusing delude of trips is the daily map view. By pressing on this Google map icon it will take you to a screen displaying all the stops and routes you took on that day. This is very helpful when you want to recall the details of a past trip or, If you're like me, and you go for a few days not checking your trips and you need to remember what those trips are.
Name Location: The app records trip stops with GPS latitude and longitude coordinates, and translates to street address if there is an Internet connection. Now, you can change those addresses to names making you trip timeline much easier to read. For example this is "HOME" and this is "BUSINESS CENTER". The app will use those names next time you visit the same place.
Change activity: The fastest and easiest way to change a trip activity for example "personal to business" on the trips screen, is by pressing the activity circle on the trip bars and choose one of the activities from the popup menu.
Add activity: If you want to customize your activities, go to business activities in the main menu and now you'll see a list of all the current activities you have. Press the plus button to add a new one, for example, 'Second Business'. Or press an existing activity to edit it.
Mileage Lock: You can edit a trip by simply pressing on the trip bar. Everything about a trip is available to edit from this screen. One thing I want to talk about is the Mileage Lock switch. It locks the trip mileage when you change the starting or ending odometer, rather than changing the mileage.
Tags and notes: Now this is very important because if you are ever audited, the IRS requires the odometer reading and business justification of each trip. Notes are for long descriptions of the trips, and the Tags are usually shorter. A nice feature of tags is that the app can recall previously entered tags for easy entry.
For more videos like this go to our youtube channel "TripLog" or our website @ TripLogmileage.com
Read More