Whether you're a 10-year vet or someone just starting out, Uber and other rideshare apps can be a solid way to make money, with the right amount of effort. However, a question a lot of gig economy workers might have is whether getting rideshare insurance is worth it.
Today, we're going to discuss what rideshare insurance is, what your options are, and whether or not the whole thing is worth it in the end.
What is rideshare insurance?
Rideshare insurance is a type of insurance that covers the "business use" of your vehicle. Personal car insurance policies often don't offer coverage when you're using your vehicle for work.
Related: Uber Pro Explained: Everything Drivers Need To Know (2023)
That means that your personal policy might not offer coverage if your vehicle is damaged or your passengers are injured when you're "running your meter", so to speak. Rideshare insurance is designed to fill that "coverage gap".
As with anything, it's important to double-check your personal insurance plan and see whether or not rideshare insurance would be beneficial for your specific needs. A rideshare insurance plan can help keep you from paying high out-of-pocket costs in the event of an accident or injury.
Doesn't Uber/Lyft/etc. offer insurance?
Yes. As a driver for most of the larger gig economy apps, you're provided some level of insurance by the company you're driving for. With that said, some, such as Forbes, describe their coverage as "woefully inadequate".
For example, DoorDash offers third-party liability insurance for Dashers, but this "only applies to accidents that occur while the Dasher is on an active delivery" (doordash.com). The coverage isn't comprehensive.
Related: DoorDash Top Dasher Requirements: Everything You Need To Know
In DoorDash's case, the company only provides excess liability insurance, meaning it will only page for damages that you cause after your personal car insurance policy's limits have been used up.
In addition, DoorDash's policy will not pay for your own injuries or any damage to your vehicle. That's where rideshare insurance comes in.
Is rideshare insurance worth it?
One user in the Reddit community /r/doordash_drivers tells a story of how they got into an accident while delivering a DoorDash order. Upon telling his insurance company that he was on the job, USAA rejected his claim, forcing him to not be able to "claim much for" their injuries.
A common joke is that various forms of insurance (travel, tickets, video game discs, etc.) are a mere upsell and aren't worth it. That doesn't appear to be the case with rideshare insurance.
The general consensus among gig economy communities is that rideshare insurance is worth it to get. This is especially the case if you're using your car a lot to do gig economy work.
In addition, you can write your rideshare insurance coverage payments off on your taxes!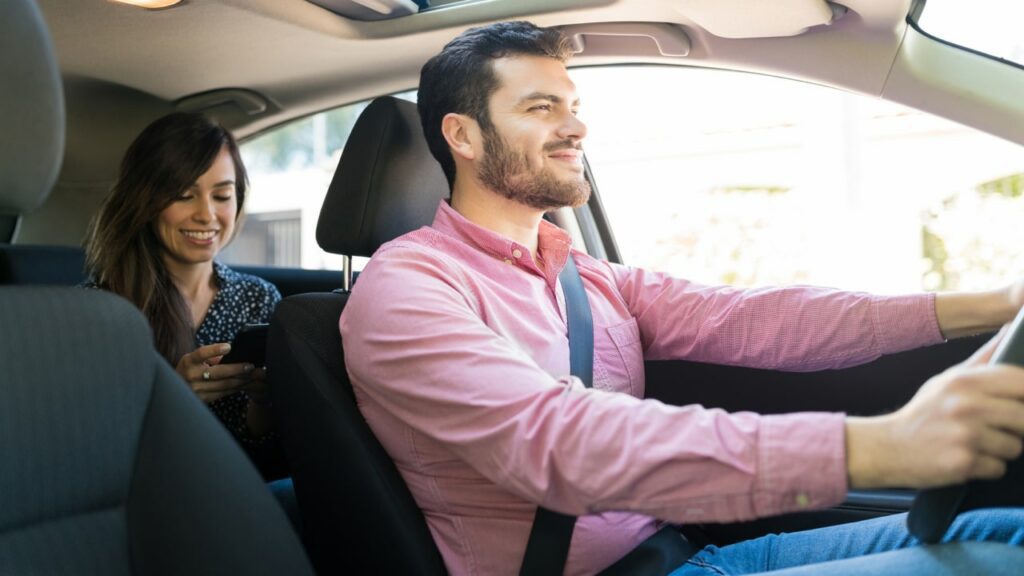 Which rideshare insurance should I get?
Virtually every major insurance agency has some form of rideshare insurance in its offerings. To keep things simple for you, you could just use the version that your current insurance company offers.
Related: The 6 Best Food Delivery Driver Tips For 2023
Alternatively, you could shop around and see if you could get a better rate on your existing coverage as well. Whether you've been in the gig economy for a while or you're just getting started, taking the time to review your insurance options can only serve to benefit you.
Here's a chart of some insurance companies and their offerings, taken from Forbes.com:
| | | | |
| --- | --- | --- | --- |
| Company | Product name | Policy types | What's covered? |
| Allstate | Allstate Ride for Hire | Policy endorsement | Covers when you are waiting for a ride request; helps pay the rideshare company's deductible of up to $2,500 when en route or on the trip |
| American Family | American Family Rideshare Endorsement | Policy endorsement | Covers when the app is on and waiting for a ride request |
| Erie | N/A | Available to drivers who put business use designation on auto policy | Covers each part of trip |
| Farmers | Farmers Rideshare | Policy endorsement | Covers when the app is on and waiting for a ride request |
| Mercury | N/A | Policy endorsement | Covers when the app is on and waiting for a ride to be requested |
| Progressive | N/A | Policy endorsement or driver must get commercial policy depending on the state | Coverage depends on your state and policy |
| State Farm | N/A | Policy endorsement | Covers when app is on and waiting for a ride request; also covers when transporting a rider (except liability coverage) |
| Travelers | N/A | Policy endorsement | Covers when app is on and waiting for a ride request (currently only available in CO and IL) |
| USAA | Rideshare Gap Coverage | Policy endorsement | Covers when app is on and waiting for a ride request |
How much does rideshare insurance cost?
Most major insurance companies offer rideshare insurance at very affordable prices. According to MarketWatch, some companies like Geico, Progressive, and Allstate may offer rideshare insurance for as low as $6 per month.
With that said, everyone's rate is going to be different due to your own personal driver history. MarketWatch claims that for most drivers, the cost will fall under $30 per month.
In theory, you shouldn't be paying more than ~$75 to ~$350 per year on rideshare insurance.
Are these costs worth it?
Let's take Lyft's $2,500 deductible in the event of an accident. If we were to take a higher-end yearly payment of $350, you would have to drive accident-free for seven years before your yearly payments would exceed that deductible cost.
Related: Top 5 Tax Tips For Gig Economy Workers In 2023
Do you feel as though you could avoid an accident for seven years, despite spending a significant amount of your day on the road? As a gig economy driver, your chances of getting into an accident are much higher than the average person, so consider that when you make your decision.
What if rideshare insurance isn't available in your area?
It's important to note that rideshare insurance isn't available in all areas. If your insurance company doesn't offer it in your area, you might need to spring for a commercial insurance policy.
These plans typically have higher liability limits, though their prices are also higher to boot. You could be paying anywhere from around $1,000 to $2,500 or more per year.
Still, depending on how much you drive or own personal risk assessment, you might want to consider this option if you can't get a standard rideshare insurance plan. As with anything, it's important to consult an insurance expert before you come up with a decision.
Other ways rideshare drivers can keep more money in their pockets
Getting rideshare coverage can be an important way for Uber, Lyft, and DoorDash drivers to save money. If you get into an accident while on the job, you could lose thousands of dollars without proper coverage.
Related: 7 Ways Uber & DoorDash Drivers Can Save On Gas In 2023
Here at TripLog, we've also been helping mobile gig economy workers earn more money for over a decade. If you're not tracking your mileage, you could be losing thousands of dollars every year in mileage deductions.
Learn more about how TripLog's mileage tracker app can help you save thousands of dollars on your taxes! You can also download the app on iOS or Android for free.