Integrate with SAP Concur®
Using TripLog web, you can connect and upload data to Concur. You need
a Concur account.
the TripLog Enterprise Plan.
TripLog uploads trips, parking, fuel, and other business expenses along with receipt photos (if any exist) to your Concur account. Here is the process: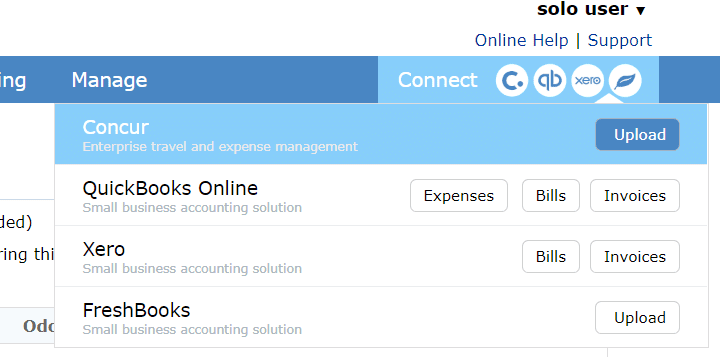 Log in to TripLog web account, click "Connect > Concur > Upload" on the menu bar, then filter trips and expenses by date range and/or activity.
If this is your first time, click the green "Connect to Concur" button (top right portion of the page) and then log in to your Concur account with your Concur username and password to allow TripLog access.
Refine the search criteria using the search area on the left side of the page to select parameters for the mileage, tolls, parking, expenses, etc; you wish to upload to Concur. Note that only the mileage and expenses that appears on the page will be uploaded to Concur.
Once you are satisfied with the mileage and expenses that appear on the page, click "Upload to Concur".
Select the Concur Report you want the trips and expenses to be uploaded to, and then click the "Upload" button.
TripLog will upload trips as Personal Car Mileage along with tolls, parking, and other expenses as QuickExpense. TripLog will also upload associated receipt images.
Please then log in to your Concur account, navigate to the Report, and review the mileage entries. Click the "Import" button to review other expense entries and import them into the Report.